BioPAK has four components
Those are:
Joint vibration analysis
Also known as the BioJVA, this evaluates the function of the jaws, identifying any adjustments or repositioning of the mandible (lower jaw) that may be needed. The jaw joints are monitored as they move, and any signs of friction or vibration are detected, as these can be indicators of a dysfunction in the jaws. The BioJVA can detect early signs of TMJ disorder even before the patient experiences noticeable symptoms.
Electromyography
Also known as BioEMG, electromyography is used to identify a wide assortment of muscular issues, including any inefficiencies of the craniofacial muscular system. Your mouth will be observed when at rest, while chewing, and clenching your jaws. This information is used to gauge current muscle function and identify the ideal resting level of your craniofacial musculature. From there, we can prescribe treatments to achieve the ideal resting position, creating balance and harmony throughout the orofacial system.
Jaw tracking
Also known as the JT-3D, the jaw tracking component of BioPAK obtains precise measures of your jaw movement by using three-dimensional imagery to obtain comprehensive information. The JT-3D can detect even very slight jaw movements and, from there, detect optimal chewing patterns and positioning, and functional abnormalities. Some of these abnormalities would be impossible for even a medical professional to identify through a visual exam.
Record muscle activity
This is the M-Scan component, and it gathers data on craniofacial muscle both when the facial system is at rest and in motion. The intuitive display of the M-Scan makes it easier to interpret results than BioEMG. You also can use M-Scan to determine the symmetry of function or as a patient education tool that explains jaw function.
What is BioPAK?
BioPAK is a comprehensive diagnostic system. It uses different tools and techniques to measure and monitor a wide array of different parameters within the stomatognathic system, which includes your teeth, jaws, the surrounding muscles, and other soft tissues. BioPAK is mainly used to diagnose TMJ disorder, but it has other applications, such as:
Evaluating jaw density for a patient who is considering dental implants

Ensuring ideal fit and alignment of bite for patients who are receiving dentures or considering orthodontic treatment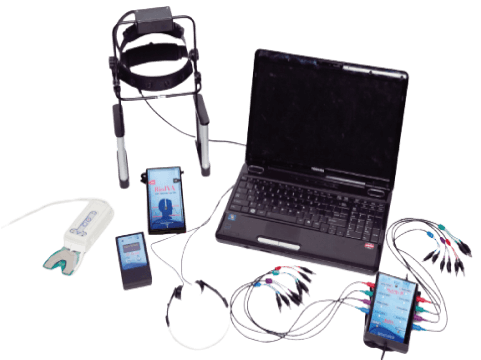 BioPAK in Jeffersonville, IN, Louisville & Shepherdsville, KY

Exceptional Dentistry is proud to offer the state-of-art BioPAK diagnostic system as part of the tools and technology available when diagnosing TMJ disorder or developing treatment plans. To learn more about BioPAK or how we can treat your TMJ disorder, call our office at (502) 423-7868 to schedule a consultation or connect with us online.